What's On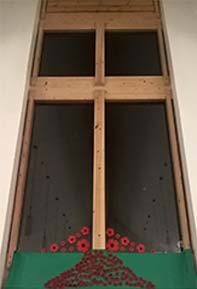 Please see our timetable below for further details of clubs/groups running.
Our multifunctional church building consists of a Large Hall (seats 100-120), small hall (seats 80, but can be split into two rooms), a small meeting room (seats 10-20), general office, kitchen and large Foyer area.
For weddings, funerals, baptisms, hall lets, events etc. (we are an unlicensed premises so alcohol is normally prohibited at events.)please contact us. Unfortunately due to groups/clubs already operating at the weekends we are no longer able to provide the church space for private parties.
Sunday
Morning Worship
Come and join our informal style of worship and friendly atmosphere which draws people from all backgrounds
Our AV system and two large projector screens allows sound to be piped throughout the church and we regularly use YouTube, DVD clips, and electronic music.
No Pews (choose your own seat) and No Hymn books necessary!!  Our Services are sometimes recorded or broadcast live on our Youtube channel
Tea/Coffee and homemade scones/baking after our Sunday service
Assembleia De Deus America - Garden Novo Tempo em Glasgow
Everyone is welcome to worship God with us and our congregation - Brazilian Community - Worship Services spoken in Portuguese Contact us: adagnovotempoglasgow@outlook.com or via our Facebook page
Monday
UKTC Taekwon-Do
UKTC - Taekwon-Do - Mr & Mrs Samson UKTC Taekwon-Do & Little Tiger Clubs - contact: 01786845060 or email: yvonnereid38@gmail.com
Gamblers Anonymous
The Fellowship of Gamblers Anonymous Scotland - contact us: 0370 050 8881 or visit our website at www.gascotland.org
Tuesday
Gamblers Anonymous
The Fellowship of Gamblers Anonymous Scotland - contact us: 0370 050 8881 or visit our website at www.gascotland.org
Wednesday
Girls Brigade (see notice inside Church for details)
Girls Brigade (The 99th Company Glasgow) **** Explorers P1-P3 6.15pm - 7.30pm ** Juniors P4-P7 6.30pm - 8.00pm ** Brigaders S1-S6 7.30pm - 9.00pm **
Thursday
PEEKABOO PLAY CAFE
***FREE ***PEEKABOO PLAY CAFE - ran by PEEK Charity - PEEKaboo Tots, 0-3 years - between 10:00am - 11:30am - PEEKaboo PreSchool, 3-5 years - 12:00pm - 1:30pm - Healthy Snacks provided - Contact Courtney - 07485315795
Assembleia De Deus America - Garden Novo Tempo em Glasgow
Everyone is welcome to worship God with us and our congregation - Brazilian Community - Worship Services spoken in Portuguese
Saturday
Slimming World
Slimming World Group - Garthamlock - Saturday Mornings @ 8:00 and 9:30 - Contact Carrina - 07585708637
Stage Stars Theatre Arts
Singing, Dancing & Drama class - Seniors (12-16 years old) - 10:30am-12:00pm and Juniors and Little Stars (3-11 years old) 12pm-1:30pm - contact us via our Facebook page @ www.facebook.com/stagestarsta
Community Gardening Group
Garthamlock & Craigend Community Garden is an open and inclusive community growing space at the rear of Garthamlock & Craigend Parish Church. Garden is fully accessible. Currently open on Tuesday evenings (Spring/Summer months only) and Saturday mornings. All are welcome. ****Coming Soon - Garthamlock & Craigend Allotments Association**** contact us via Facebook or email @ gaccgg@outlook.com